In times of global turbulence: wars, crises and diseases, everyone experiences such emotions as anxiety, fear and vulnerability.

The only opportunity not to lose your mind is to do something, what you do best – that's how we've come up with this photoshoot.
This photoshoot is a reflection of loneliness in a scary fairy tale, when you find yourself a stranger among your own, and a stranger among others.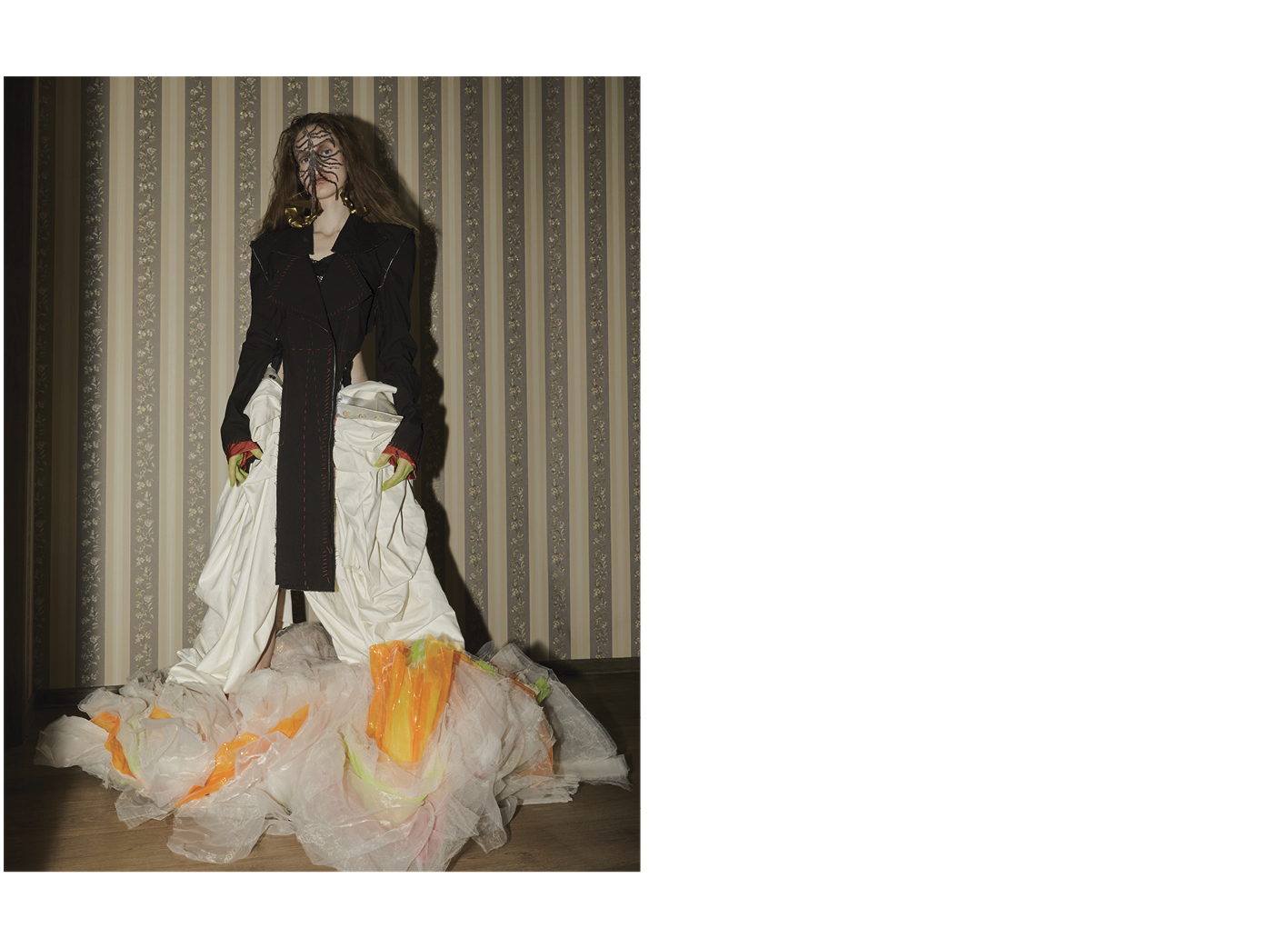 Jacket Polina Vorobey @polinavorobey.des, Dress Nina Veresova @nina_lii, Gloves Monosuit @monosuit, Earrings Stylist's property
left: Hood, top, skirt, gaiters, basque, mittens Yasny Sokol @sokol_yasnyy, Turtleneck Marine Serre @marineserre_official, Shoes Maison Margiela @maisonmargiela, Jacket Nina Veresova @nina_lii
right: Fur coat Monosuit @monosuit, Suit Monosuit @monosuit, Knitted sweater Evgeniya Tulyankina @genbygen, Mask Nina Veresova @nina_lii, Accessories Kimsy @kimsy_xx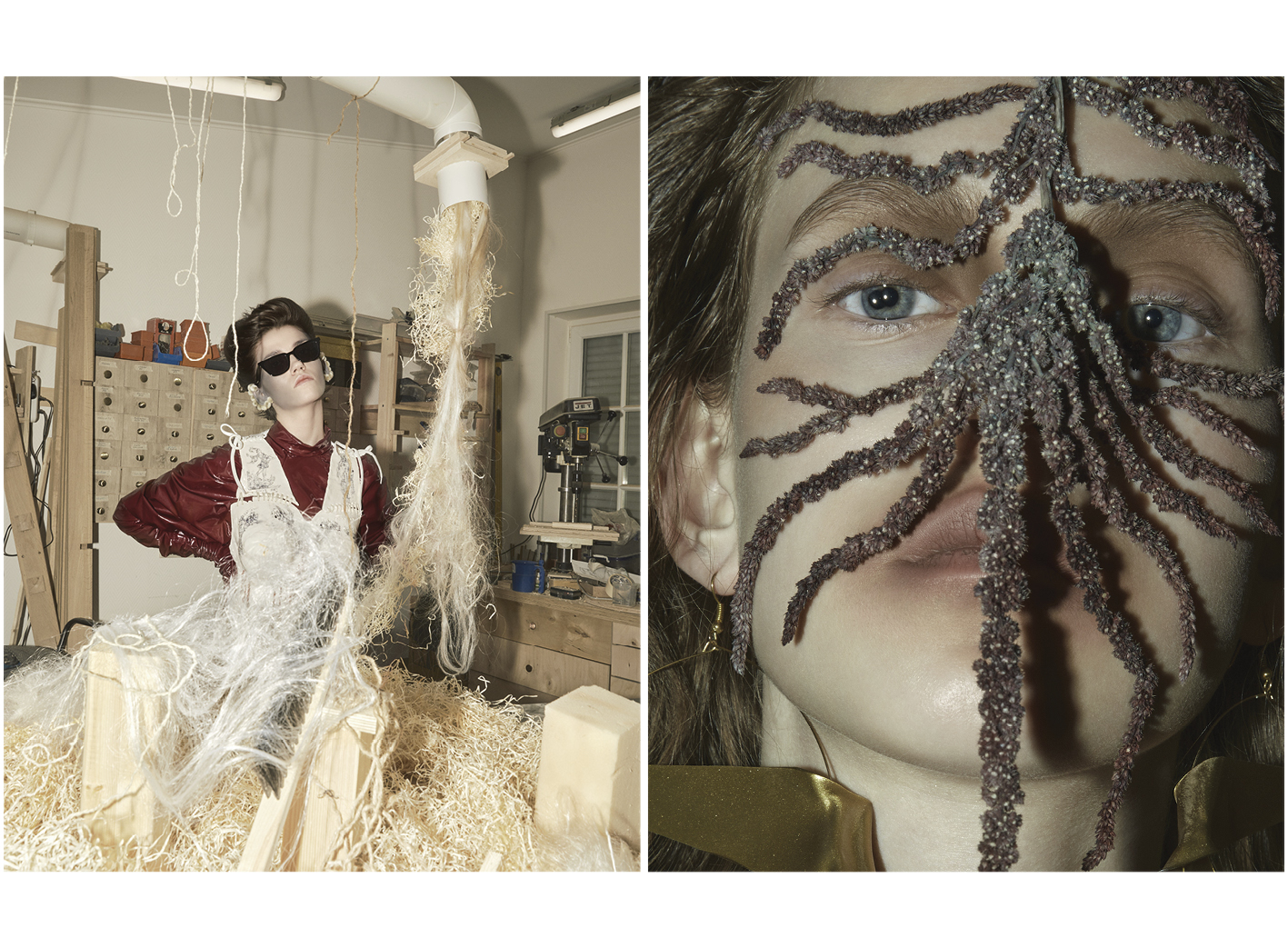 left: Dress & Gloves Vera Steklova @verasteklova, Corset Kh.Umukusum @kil456, Sunglasses Gentle Monster @gentlemonster, Shoes Stylist's property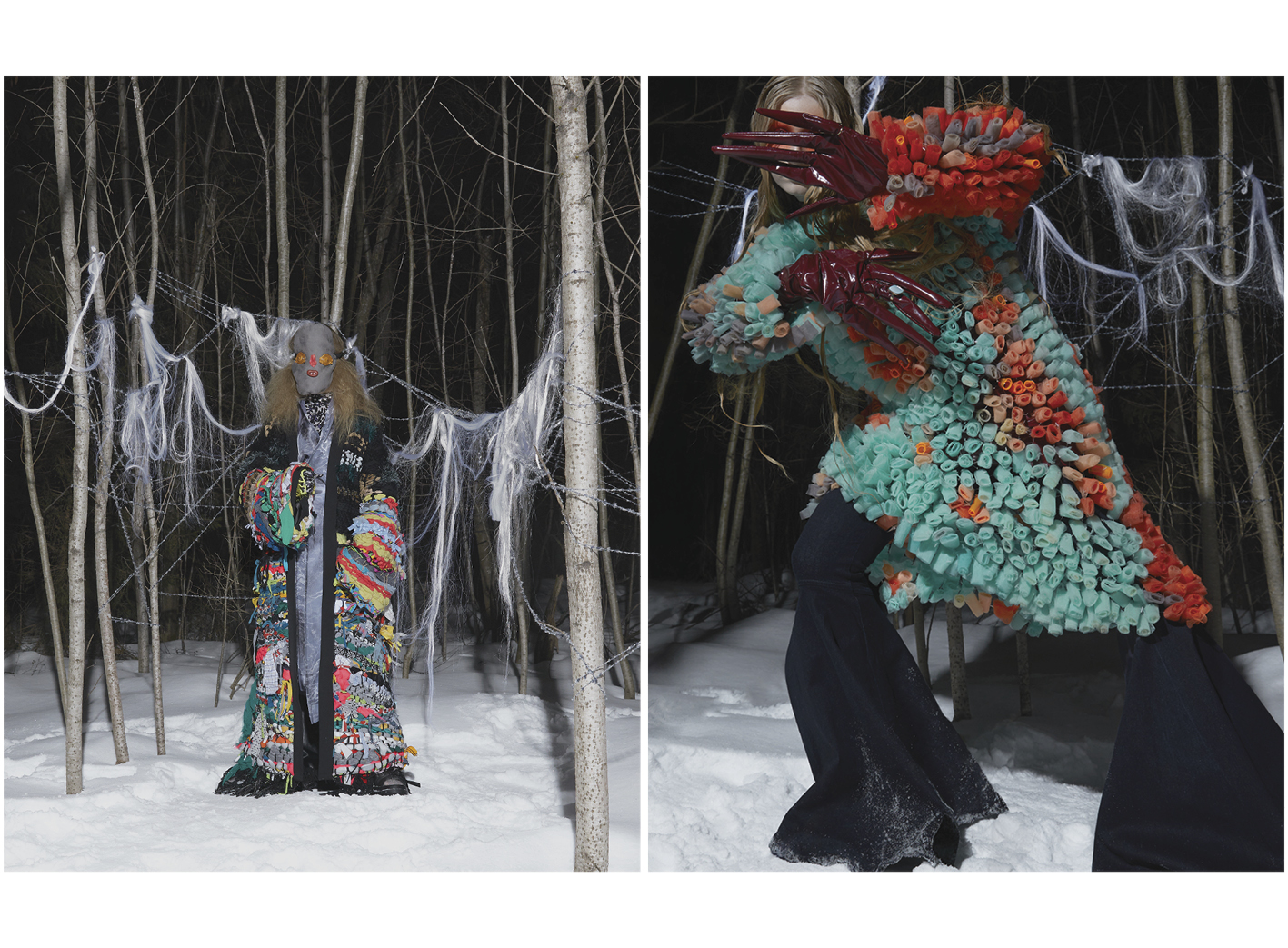 left: Jacket Nina Veresova @nina_lii, Suit Monosuit @monosuit, Knitted sweater Evgeniya Tulyankina @genbygen, Mask Varvariplastilin @varvariplastilin
right: Dress Darina Sorokina @_sara_dora, Gloves Vera Steklova @verasteklova, Jeans Stylist's propertyShoes Roger Vivier @rogervivier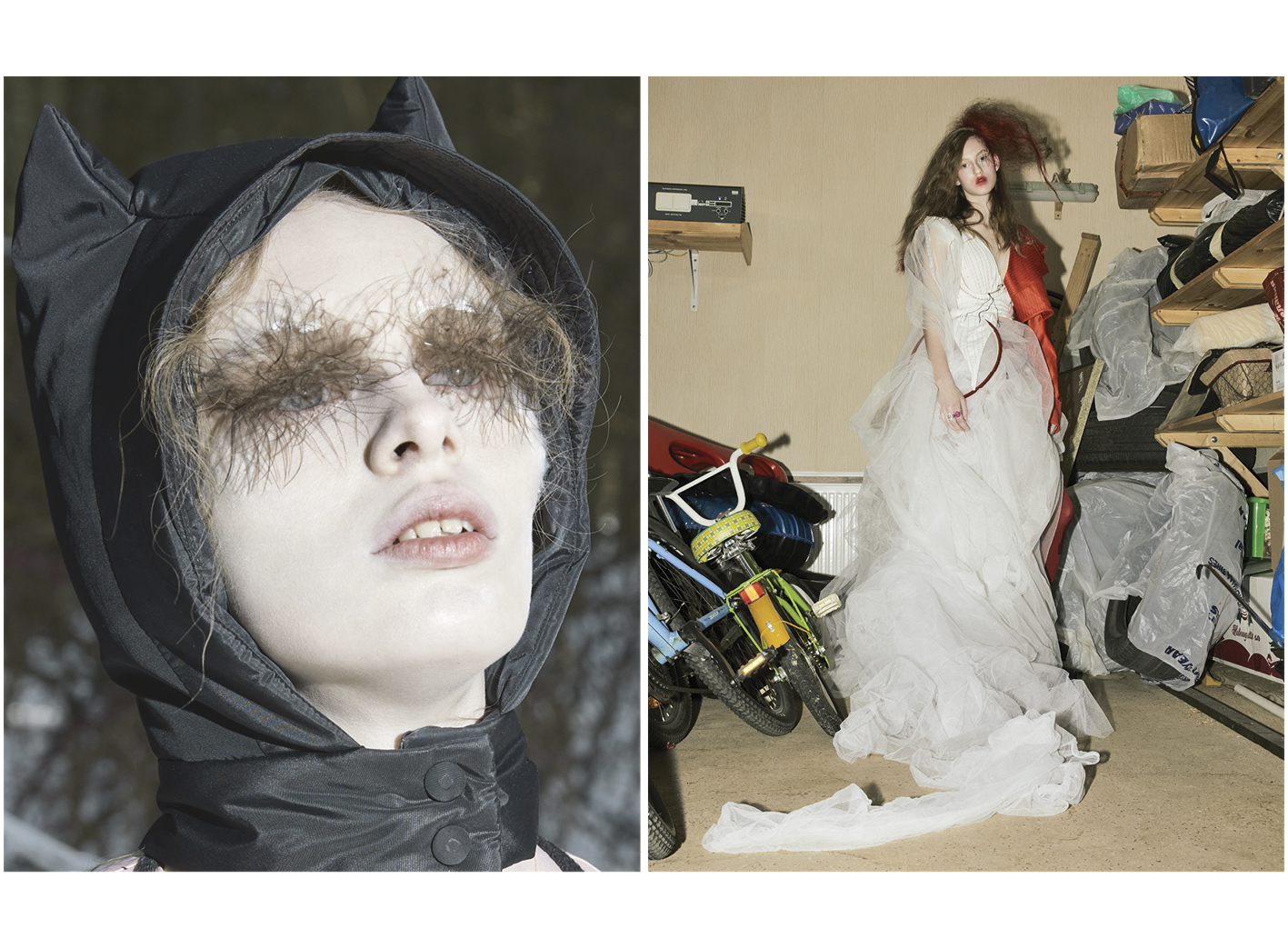 right: Dress Polina Vorobey @polinavorobey.des, Accessories Kimsy @kimsy_xx
left: Knitted dress Evgeniya Tulyankina @genbygen, Accessories Stylist's property
right: Dress & veil Polina Vorobey @polinavorobey.des, Belt by set designer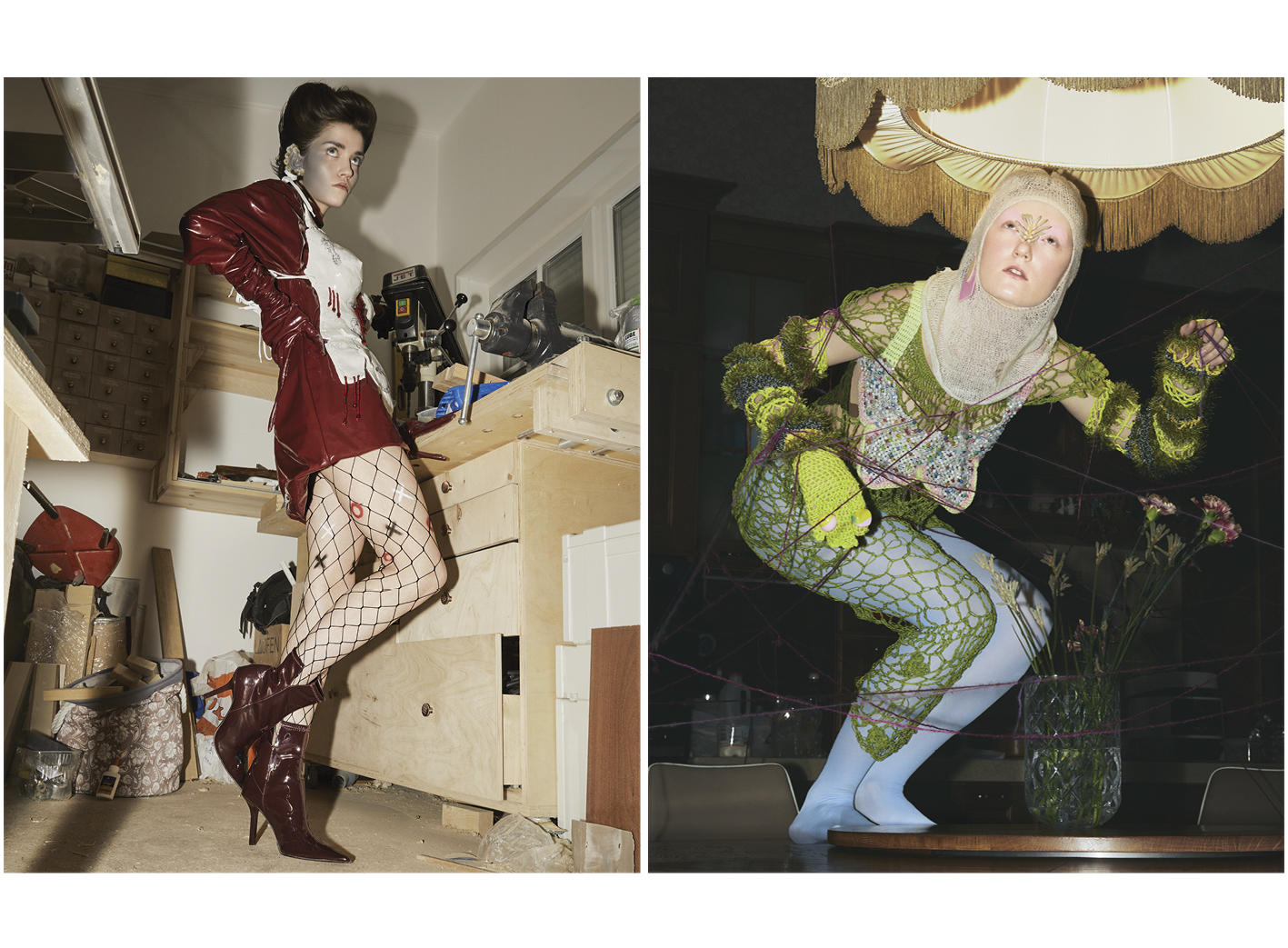 left: Dress & Gloves Vera Steklova @verasteklova, Corset Kh.Umukusum @kil456, Sunglasses Gentle Monster @gentlemonster, Shoes Stylist's property
right: Knitted dress Evgeniya Tulyankina @genbygen, Accessories Stylist's property
Photography & Retouch Ann Gorak @anagorme
Styling Ekaterina Potehina & Hillary Gor-Voinatovskaya @stylekatyaclover @hillarygorstyle
Flower artist Supinatra @supinatra
Makeup Mary Shevchenko @shevchenkomua
Hair Oksana Laskina @laskinao
Art direction Ann Gorak @anagorme & Alexander Loginow @alexanderloginow
Set designer Daniel @bydaniello
Models Anna & Viki from Vertulian models, Daria, Liana, Ellianna @anna_suun @prosta_vika_ @vertulianmodels @d_rd_r @liil.rose @fishman.dj